A "secret" people in the industry love to tell each other is to put together an album of mirror selfies of what they wear each day before fashion week. I do this every season in every city I go to, and honestly, I don't hide the practice very well. I find the styling gymnastics to be much more interesting.)
This process is theoretically practical.The pressure to look a certain way uponA trend-setting guest can get just as much attention on the runway as it does on the runway, so consider what it means to end up with such a fretover ensemble. Is your wardrobe lacking the need for novelty? Is this the birth of Shine Hall?
Rather than abandoning the childlike joy that comes from taking ridiculously tiny fit photos in ridiculously tiny clothes, this season's New York Fashion Week hopes to imbue it into your own mind. I figured it would be the perfect time to codify the mindfulness of being in a well-planned wardrobe and beyond.
sustainability
Jacket and pants: Aeron; Bag: SC103; Shoes: Prada
Photo: Courtesy of Laura Reilly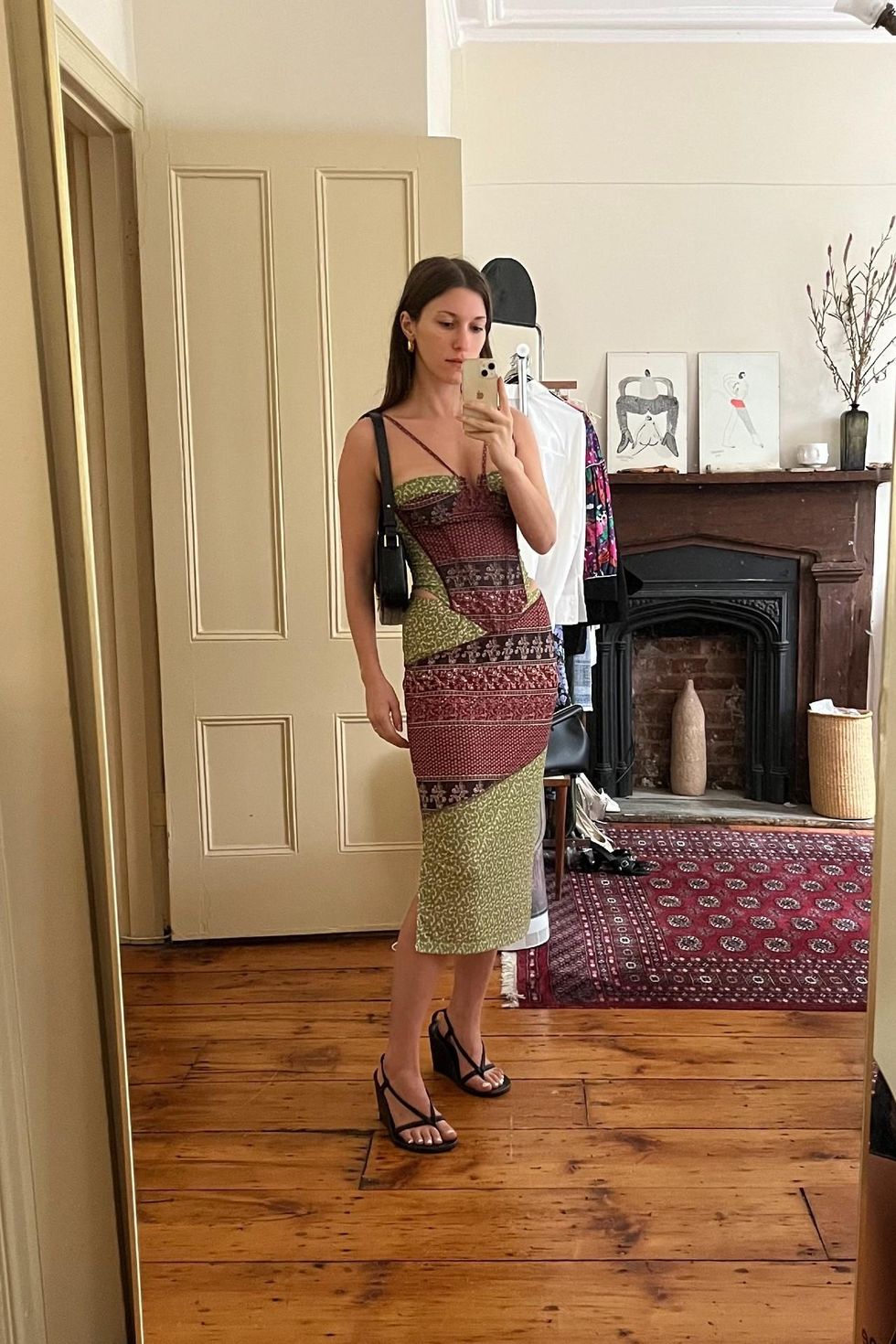 Matching Set: Miaou; Bag: APC; Shoes: Duby
Dress: Vintage by Ending Soon.Bra: CUUP; Shoes: Vintage Miu Miu
Given the sins of the industry, the first place to start is the issue of sustainability. Many brands vaguely claim or simply lie about their "sustainable" environmental practices. For starters, far fewer people devote themselves to regenerative procurement and the demanding work of cross-cutting labor responsibilities.
Looking to those working beyond lip service, we incorporated pieces from some of the major brands.Mirror Palais is the bespoke brand that will be hosting a runway show at NYFW for the first time this season. , is a constant challenge to mitigate its impact. The fabrics are almost entirely deadstock, all garments are locally made in New York City, and the brand has consistently adhered to a number of additional values, from size inclusivity to anti-racism in New York City. Miaou, who provides uniforms for his girls at parties, also focuses on sustainability. With great transparency, the label plans a local and ethical production flow that takes into account renewable materials, dyes, packaging and social initiatives.
Australian brand Silk Laundry came to mind at NYFW with a sultry minimalist dress that was shown at its recent Soho pop-up. Its goals are specific and relevant to its home country, Australia, in the areas of sustainability, reforestation, conservation of endangered animals and flowers, and are on the path to B Corp certification. . Similar to Budapest-based Aaron and Dutch slow-fashion label CAES, Rentrayage, one-of-a-kind pieces crafted from sourced clothing and dead-stock materials, also hit my wardrobe this week. .
charity
In the familiar routine of online shopping, it can be daunting to think that simply exchanging URLs can result in thousands of dollars donated to worthy causes, or none at all. I feel like I hooked up with Olivera ahead of Fashion Week. The retailer diverts 20% of all her sales to a reputable NGO working to fight poverty, disease and women's injustice while advocating for the environment and protecting the arts. I'm here.
Naturally, the site's success hinges on its ability to move products, and a combination of luxury and emerging brand merchandising seems to accomplish that. From designers like Ganni, Rodebjer, Mansur Gavriel, Dorothy Schumacher, and Ususi Sister, who were actually worth wearing, he was able to pull looks to suit label-fluent features like his fashion week.
Visibility
Tank: Soldout.nyc; Skirt: Vintage Y's Ending Soon; Bag: Much; Shoes: Mariam Nasir Zadeh
Photo: Courtesy of Laura Reilly
Vest: Row; Skirt: Dries Van Noten; Bag: Mansur Gabriel.Shoes: Maison Margiela
Dress: Mirror Palais; Clutch: Vintage; Shoes: Vintage Giuseppe Zanotti
Another brand I've worn in the past that I want to keep an eye on again this season is Bevza. Ukrainian companies like Svitlana Bevza's eponymous brand can now get even more from public support and recognition. Her items are truly outstanding and she is one of the most worn by attendees each season. Her knitted balaclava was a fixture outside Spring Studios during the show in February. I think it's the same sailor-themed piece from her SS22 that I pulled to wear to this brand's show. Tuesday.
longevity
Perhaps the most important and achievable value on this list is long life cycle value. As an editor, much of what I wear during Fashion Week is pulled from the designer and his PR showroom. However, many of the costume components were ones I owned for years and wore season after season.
My trusty Maryam Nassir Zadeh Olympia wedges weigh heavily on my upcoming outfit, as does my simple brass-clasp APC shoulder bag. My Soldout.nyc white tank is an invaluable styling tool to have on hand, and my Sundar Bay oversized white button-down lends itself to a variety of looks as well.
I made sure that the items I purchased with the intention of wearing this week were quality pieces that would last for years, if not decades. Gorgeous knitted vests from The Row, a step above the rest. Plain white Acne T. Versatile electric blue Paris Georgia pants.
proximity
Pants and bag: Gemsun; Top: House; Belt: Michelle Del Rio; Shoes: Balenciaga
Photo: Courtesy of Laura Reilly
Above: Acne Studios. Skirt: Vintage Comme des Garçons via Ending Soon, Bag: JWAnderson.shoes: fendi
Set: Bebuza; Bag: APC
Bring your friends and their brands closer together. We've touched on this topic before, but maintaining a healthy abundance of what your inner circle makes is one of the most stylish things you can do. It may be impossible for young brands to enter the crowded world of fashion, but we have the power to make their voices heard. Household names are built from scratch.
I am especially fortunate to be surrounded by extremely talented people that I can call friends, and whose creative pursuits are one of my favorites to showcase at NYFW's endless events and celebrations. Gemsun's crochet accessories are a mainstay, and its new ready-to-wear has proven to bring just as much joy to my outfits. The belt makes it interesting. They're some of my most-worn items. Haus Label's athleisure-inspired pieces are the summer essentials that I proudly start nearly every outfit with. It can be a seamless steal even in a feminine wardrobe.
window.REBELMOUSE_ACTIVE_TASKS_QUEUE.push(function(){
var makeMonitor = (getStatus, cb, delay) => { delay = delay || 100; var monitor = () => { var time = +new Date(); var status = getStatus(); if (status) { return cb(status); } else { if (!stopMonitor && +new Date() - time < 30 * 60 * 1000) { monitorId = setTimeout(monitor, delay); } else { cb(false); } } }, cancel = () => { stopMonitor = true; clearInterval(monitorId); }; let monitorId, stopMonitor = false; return { start: monitor, cancel: cancel, }; };
var leftArrowCarrousel = makeMonitor( function () { return document.querySelector( ".shop-sidebar.shop-posts .posts-wrapper .slick-next" ); }, function (res) { res.addEventListener("click", () => { gtag("event", "Left Arrow Click", { event_category: "Shopping Module", event_label: "Previous product at carrousel", }); }); } );
leftArrowCarrousel.start();
var rightArrowCarrousel = makeMonitor( function () { return document.querySelector( ".shop-sidebar.shop-posts .posts-wrapper .slick-prev" ); }, function (res) { res.addEventListener("click", () => { gtag("event", "Right Arrow Click", { event_category: "Shopping Module", event_label: "Next product at carrousel", }); }); } );
rightArrowCarrousel.start();
var buyButton = makeMonitor( function () { return document.querySelectorAll( ".shop-sidebar.shop-posts .posts-wrapper .widget__product-buy-link-btn" ); }, function (res) { for (let button of res) { button.addEventListener("click", () => { gtag("event", "Buy button click", { event_category: "Shopping Module", event_label: `${button["href"]}`, }); }); } } );
buyButton.start();
var imageShopp = makeMonitor( function () { return document.querySelectorAll( ".shop-sidebar.shop-posts .posts-wrapper .widget__head a" ); }, function (res) { for (let image of res) { image.addEventListener("click", () => { gtag("event", "Image click", { event_category: "Shopping Module", event_label: `${image["href"]}`, }); }); } } );
imageShopp.start();
var productTitle = makeMonitor( function () { return document.querySelectorAll( ".shop-sidebar.shop-posts .posts-wrapper .widget__headline .widget__headline-text" ); }, function (res) { for (let product of res) { product.addEventListener("click", () => { gtag("event", "Product title click", { event_category: "Shopping Module", event_label: `${product["href"]}`, }); }); } } );
productTitle.start();
});
window.REBELMOUSE_ACTIVE_TASKS_QUEUE.push(function(){
window.REBELMOUSE_STDLIB.loadExternalScript("https://s.skimresources.com/js/150311X1615657.skimlinks.js", function() {
});
});
window.REBELMOUSE_ACTIVE_TASKS_QUEUE.push(function(){
let modDate = new Date (document.querySelector('.current--post .social-date-modified__text').textContent); let createDate = new Date (document.querySelector('.current--post .social-date__text').textContent); let m_names = new Array("January", "February", "March", "April", "May", "June", "July", "August", "September", "October", "November", "December");
function dateToMDY(inputDate) { var d = inputDate.getDate(); var m = inputDate.getMonth(); var y = inputDate.getFullYear(); return '' + m_names[m] + ' ' + (d <= 9 ? '' + d : d) + ', ' + y ; } document.querySelector('.current--post .social-date-modified__text').innerText = dateToMDY(modDate); document.querySelector('.current--post .social-date__text').innerText = dateToMDY(createDate); }); window.REBELMOUSE_ACTIVE_TASKS_QUEUE.push(function(){ !function(f,b,e,v,n,t,s){if(f.fbq)return;n=f.fbq=function(){n.callMethod?n.callMethod.apply(n,arguments):n.queue.push(arguments)};if(!f._fbq)f._fbq=n;n.push=n;n.loaded=!0;n.version='2.0';n.queue=[];t=b.createElement(e);t.async=!0;t.src=v;s=b.getElementsByTagName(e)[0];s.parentNode.insertBefore(t,s)}(window, document,'script','https://connect.facebook.net/en_US/fbevents.js');fbq('init', '1248680838922690');fbq('track', 'PageView'); }); window.REBELMOUSE_ACTIVE_TASKS_QUEUE.push(function(){ window.REBELMOUSE_STDLIB.onElementInViewport({ threshold: 400, selector: "video", oneTime: true, onIntersect: function(entry){ var element = entry.target; element.setAttribute("allow","autoplay"); element.loop = true; element.muted = true; element.autoplay = true; element.setAttribute("playsinline","true"); //element.controls = false; element.play(); } }); }); window.REBELMOUSE_ACTIVE_TASKS_QUEUE.push(function(){ let headings = document.evaluate("//p[contains(., 'Want more stories like this?')]", document, null, XPathResult.ANY_TYPE, null ); let thisHeading = headings.iterateNext(); console.log(thisHeading.textContent, 'head changed'); thisHeading.innerHTML = "More From Coveteur"; thisHeading.style.fontFamily= 'Playfair Display'; thisHeading.style.fontSize="24px";
});
window.REBELMOUSE_ACTIVE_TASKS_QUEUE.push(function(){
IcreateElementChangeListener('.shop-posts .widget__headline-text', (el)=>{
el.setAttribute("rel","nofollow");
});
});



Source link