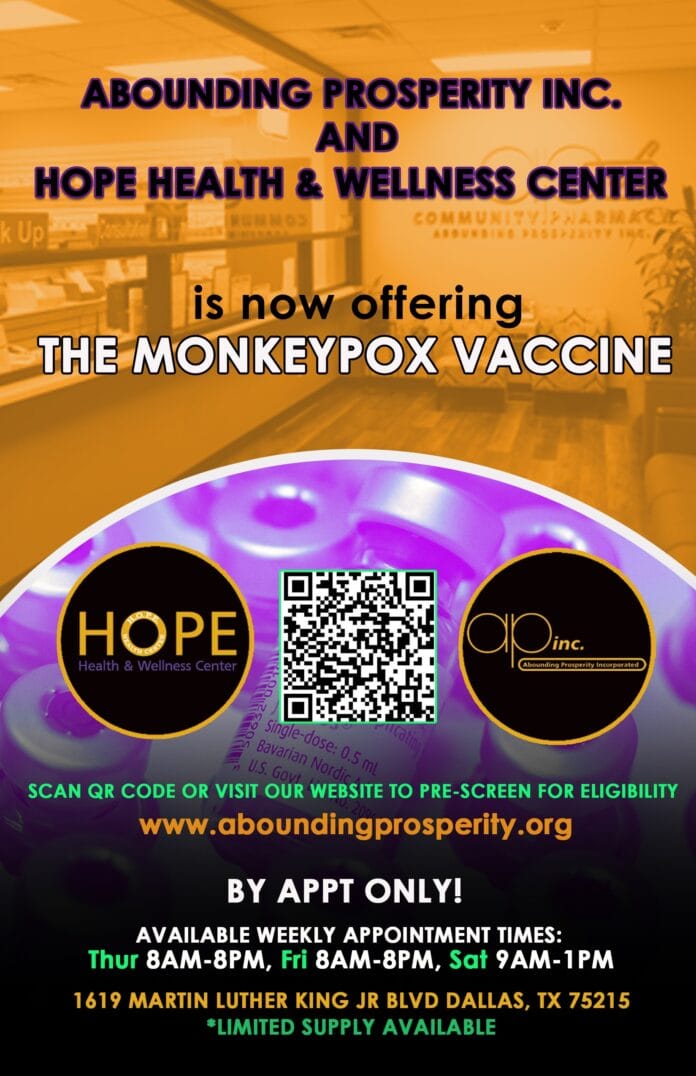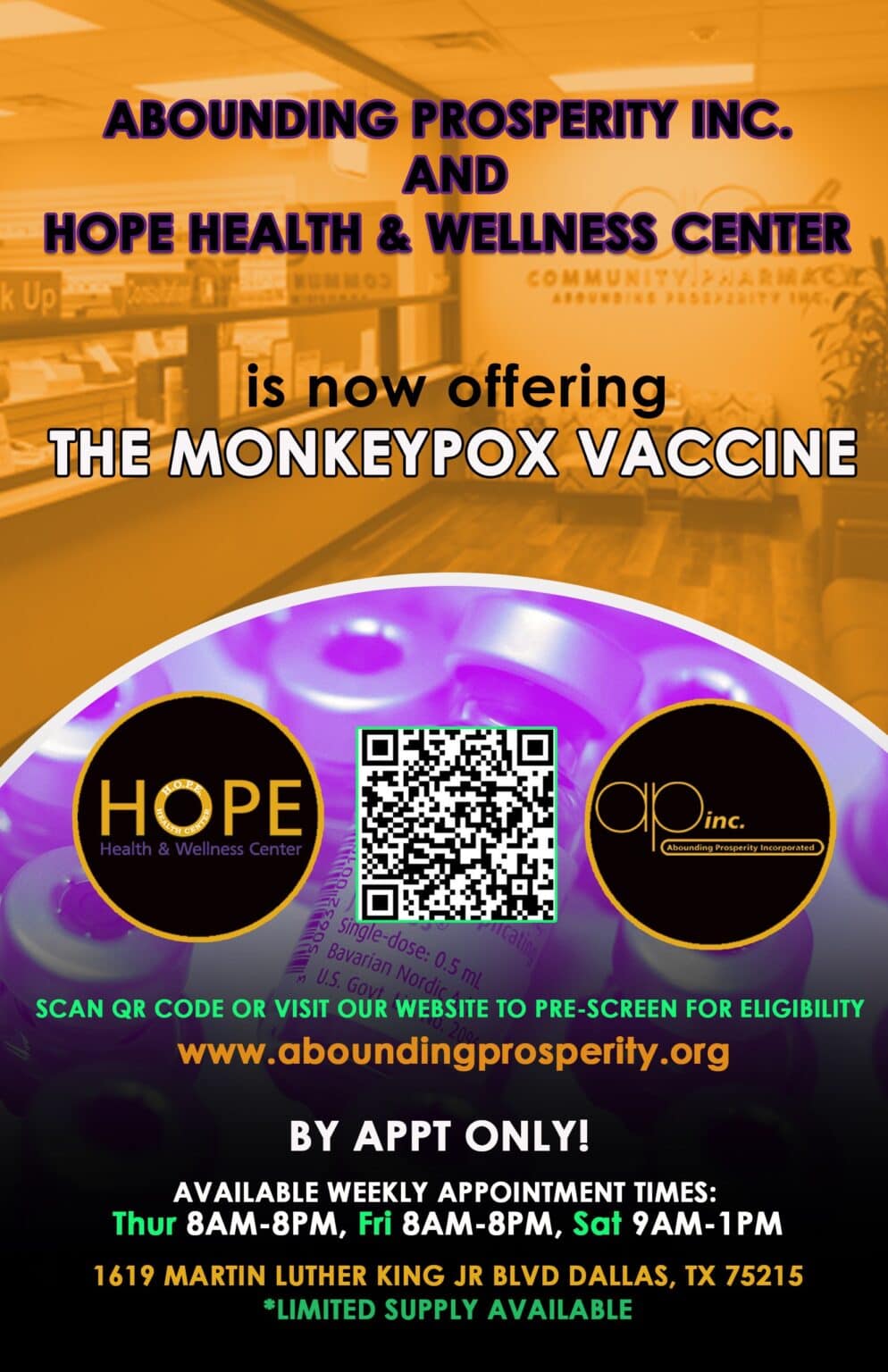 Over 300 vaccines available to eligible individuals at the South Dallas Clinic while supplies last
Dallas, August 12, 2022 – Abounding Prosperity Inc. and its HOPE Health and Wellness Center host monkeypox vaccine clinics for high-risk individuals and underserved communities in the Dallas/Fort Worth area.
The clinic is now open to qualified individuals by appointment at the HOPE Health and Wellness Center, 1619 Martin Luther King Jr. Blvd., Dallas, TX 75215. Until 1:00 PM (CT) every Saturday, while supplies last.
According to the Centers for Disease Control and Prevention, monkeypox is a rare disease caused by infection with the monkeypox virus that spreads from person to person through direct contact with respiratory secretions, infectious rashes, crusts, and body fluids. and may spread. JYNNEOS is the only FDA-approved vaccine in the United States approved for the prevention of monkeypox.
There are currently about 6,000 confirmed monkeypox cases in the United States. In Texas he has over 700 cases. Dallas County has over 200 cases, more than any other county in the state. The LGBTQ+ community is disproportionately affected, with approximately 98% of the total impacting gay or bisexual men.
Abounding Prosperity Inc., a non-profit organization established to address the social and health disparities devastating communities of color and LGBTQ+ communities in Dallas County, was originally funded by Dallas County Health and Human Services to help prevent monkeypox. You have received 300 doses of the vaccine. Dosages will be administered at the clinic until exhausted.
Kirk Myers-Hill, Founder and CEO of Abounding Prosperity Inc. "Having this clinic in South Dallas will allow individuals to easily obtain the vaccine in their neighborhood. "
The disease is more common in gay and bisexual men, but sexual orientation and gender identity do not increase the risk of infection. Close contact with an infected person increases the risk of infection. Reduce the chance of contracting the disease by taking precautions such as avoiding skin-to-skin contact with symptomatic people, avoiding contact with objects or materials used by monkeypox patients, and washing hands frequently can do.
"Providing these vaccines and other resources to ensure their access and availability to those who may not otherwise have access to these resources is paramount. We want to make it a better place," said Tamara Stefney, Chief Operating Officer of Abounding Prosperity Inc. and Executive Director of HOPE Health and Wellness Center. "We must remain at the forefront and respond proactively and quickly to public health issues affecting communities the way we have responded to HIV, COVID-19, sexually transmitted diseases and monkeypox. By integrating these types of services, we can scale up our prevention efforts and thereby improve health and wellness outcomes in our communities."
To determine eligibility and to schedule an appointment to receive the vaccine at Abounding Prosperity Inc.'s HOPE Health and Wellness Center, please visit the Monkeypox Vaccine Eligibility Pre-Screening.
Only those who meet the eligibility requirements will receive the vaccine as there is a high demand that exceeds the current available supply.